In most cases we suggest using Microsoft RDC on OS X to connect to a Windows server. Occasionally there are compatibility issues with OS X, so if you need to use an alternative RDP client on your Mac, we suggest downloading one of these free programs:
We will demonstrate connecting with CoRD, a popular alternative for OS X, and a very good all-around RDP client.
How to Connect
1. Download and open CoRD. In the "Quick Connect" box, enter your remote Windows server's public IP address. This address can be found in your service setup email titled "New Server Information," or in the Secure Client Area. Press Enter.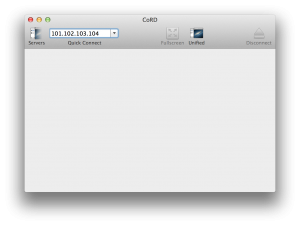 2. The remote desktop should appear in a new window, prompting for the Windows username and password. In most cases the username is "Administrator."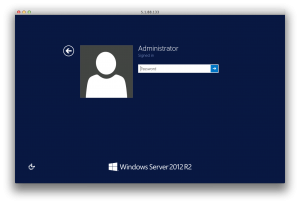 That's it! You are now connected to the Windows server via RDP, and you can control it exactly like a 'normal' Windows PC.
If you experience any trouble with this process, or would like assistance connecting to a Windows server or Windows VPS, please don't hesitate to contact our Technical Support team.