Many are familiar with cPanel as the industry-leading web server management panel. The software is undoubtedly some of the best available, but its premium cost is sometimes not affordable, especially for small or low-maintenance projects.
Virtualmin is an advanced web server management panel, and a very good alternative to cPanel, with the same administration structure based on root users, resellers, and clients. We would even recommend it above panels like DirectAdmin and Kloxo, which are perhaps more common alternatives for Linux servers. Read on to see how to install Virtualmin with 2 simple shell commands.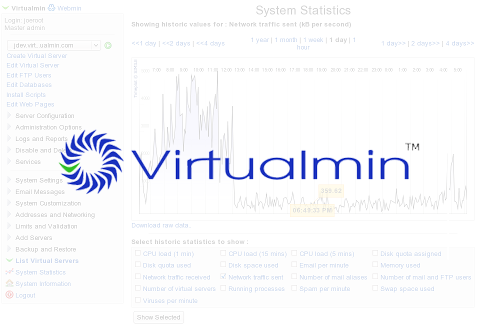 Installing Virtualmin is simple, although you will require root shell access to your server or VPS. At the shell prompt, enter the commands below:
cd /root; wget http://software.virtualmin.com/gpl/scripts/install.sh
chmod +x install.sh; ./install.sh
Virtualmin should begin installing, with 1 or 2 options that you will need to select during the process. Once completed, you can access Virtualmin's web interface at:
https://0.0.0.0:10000
Username: root
Password: [Your server's root password.]
From the root account, you can create resellers, add websites, and configure your server.
The above instructions will result in a functioning Virtualmin VPS on: